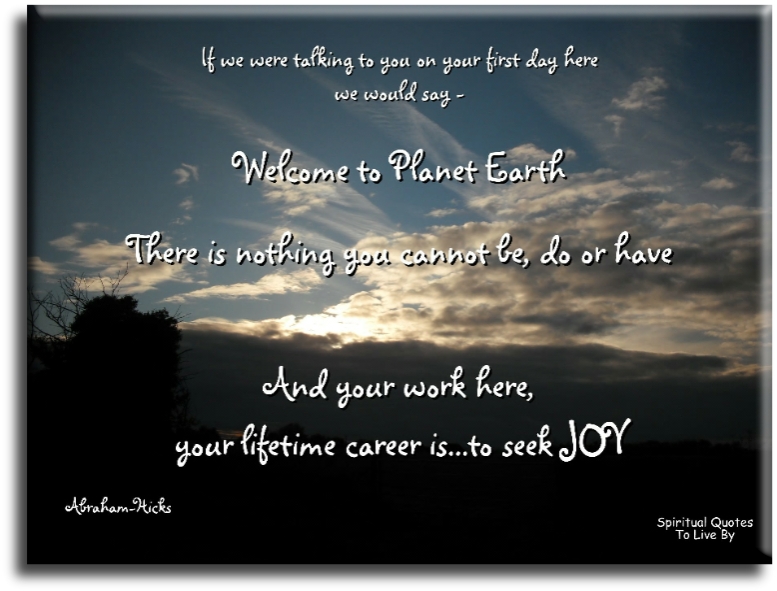 Abraham-Hicks quotes about feeling good give inspirational guidance on why it is important to feel good, no matter what we are experiencing in our lives. Their words of wisdom teach us to always focus, as much as possible, on any thought that makes us feel better.
Other Abraham-Hicks Quote Pages:
Babies – Children – Death – Health – Law Of Attraction – Life – Money – Spirit – Thoughts
Abraham-Hicks (selection of quotes from all pages)
quotes are listed alphabetically

---
 Abraham-Hicks Quotes About Feeling Good:  

A  
---
Any time you feel negative emotion, stop and say: 'Something is important here, otherwise I would not be feeling this negative emotion. What is it that I want?' And then, simply turn your attention to what you want, the negative attraction will stop, and in the moment the negative attraction stops, the positive attraction will begin. And in that moment, your feelings will change from not feeling good to feeling good.
As you think thoughts that feel good to you, you will be in harmony with who you really are.

---
 Abraham-Hicks Quotes About Feeling Good:  

B  
---
Be easy about it. Don't rush into things. Savor them more. Make more plans and be more deliberate and specific about the plans that you are making, and in all that you do, let your dominant intent be to find that which pleasures you as you imagine it. Let your desire for pleasure, your desire for feeling good, be your only guiding light. As you seek those thoughts that feel good, you will always be in vibrational harmony with the Energy that is your Source. And under those conditions, only good can come to you, and only good can come from you.

---
 Abraham-Hicks Quotes About Feeling Good:  

E  
---
Everything that I think that I need to do, is all only in order to propel me to some place, that when I get there I think I will be happier. So, everything that I am doing, no matter what it is, all of my lists of rights and wrongs, are all about me getting to a manifestation, that I believe I will then be happier…So, why don't I take a short cut and just be happy?

---
 Abraham-Hicks Quotes About Feeling Good:  

I  
---
I care how I feel and it is my desire to feel good.
If we were talking to you on your first day here we would say, "Welcome to planet Earth. There is nothing that you cannot be or do or have, and your work here, your lifetime career is to seek joy."
If you know that all is well, you know all you need to know. And if you know life is supposed to be fun, you know more than almost anybody else knows.
If you're not selfish enough to want to feel good, then you can't connect with the energy that is your Source which does always feel good.
It is so easy to make the finding of the path so much more complicated than it really needs to be because from within you know if you have been willing to tune yourself to feeling good, no matter what, so that that's what matters most to you…then in your natural quest for joy you'll just keep being on your path…your path unfolds.

---
 Abraham-Hicks Quotes About Feeling Good:  

M  
---
Mining the moment for something that feels good, something to appreciate, something to savour, something to take in, that's what your moments are about.

---
 Abraham-Hicks Quotes About Feeling Good:  

P  
---
People say, "If I'm always setting goals and reaching for the future, then am I not squandering my now?" And we say, if in your NOW, you are using a future event to make you feel good, you are still feeling good in your now. And that's the best use of NOW that you could ever find.

---
 Abraham-Hicks Quotes About Feeling Good

:  T  
---
The better you feel, the more in alignment you are. The worse you feel the more out of alignment you are.
The discipline that we would like you to exercise is to make a decision that nothing is more important than that you feel good, and that you are going to find thoughts that feel better.
The main event has never been the manifestation, the main event has always been the way you feel, moment by moment, because that's what life is.
The purpose of your life is joy.
The standard of success in life isn't the things. It isn't the money or the stuff. It is absolutely the amount of joy that you feel.
The Well-Being that you seek is flowing to you, relax and enjoy the unfolding.

---
 Abraham-Hicks Quotes Feeling Good:  

U  
---
Use any excuse you can use to feel good – and watch what happens.

---
 Abraham-Hicks Feeling Good:  

W  
---
When your heart is singing, you are allowing Well-Being. When you are appreciating, you are allowing Well-Being.
Whenever you are feeling less than good, if you will stop and say, – Nothing is more important than that I feel good, I want to find a reason NOW to feel good – you will find an improved thought.

---
 Abraham-Hicks Quotes About Feeling Good:  

Y  
---
You are born uplifters, but you cannot uplift unless you are in the Vortex and your mood is your indication of whether you are.

Abraham Hicks Official Website
Jerry & Esther Hicks
For more information Abraham-Hicks Official Website
or watch videos from Abraham-Hicks YouTube page.

Abraham-Hicks Quotes About: