Jerry & Esther Hicks
Abraham-Hicks teachings are unquestionably the ultimate guidance on life. Esther and Jerry Hicks have been teaching the Law of Attraction since the 1980's. Through books, CD's, DVD's, workshops and the internet they circulate the wisdom that Esther brings through from Abraham (a Collective Consciousness).
My understanding of the Law of Attraction has been mainly through Abraham materials. I first read "Ask And It Is Given" in 2006, and although I didn't really 'get it' at that time, I KNEW that this was an extremely important book to me. Since 2010 I have studied and absorbed the teachings of Abraham into my everyday life and I now believe that I understand the principles of their guidance. I love to watch or just listen to Abraham speaking through Esther; the love, warmth, wisdom and humour just radiates out to the world. But this wonderful knowledge that we can all now share would not have come about if it wasn't for Jerry and his questioning nature. We are truly blessed with having Jerry and Esther devote so much of the lives to sharing Abraham with us all.
Jerry Hicks made a transition into the Flow of Eternal Life on 18th November 2011. Although his physical presence is missed it wasn't long before his Non-Physical Energy was coming through to Esther and continues to be a part of the work that they so lovingly provide for us all. Abraham teaches that there is no such thing as Death, we are, and will always be, Source Energy…  it's just sometimes partly focused in a physical body.
Some of the quotes have a link under them to my page of Abraham-Hicks quote poems, these are poems written by myself that use a quote from Abraham as the title and theme.

Wayne Dyer  1940 – 2015
The wisest and most profound teachings on the planet today.
(talking about Abraham-Hicks)
The quotes on this page are a selection from these pages:
Abraham-Hicks Quotes About:
Babies – Children – Death – Feeling Good – Health – Law Of Attraction – Life – Money – Spirit – Thoughts

---
---
A belief is only a thought I keep thinking.
All you gotta do is chill out.. Let go of control and chill out.. Let it be, trust.
Appreciation in advance brings everything you want to you.
As you think thoughts that feel good to you, you will be in harmony with who you really are.
As you think, you vibrate. And it is your vibrational offering that equals your point of attraction. So what you are thinking and what is coming back to you is always a vibrational match.

---
---
Be happy in anticipation of what's coming.

---
---
Children or babies learn to mimic the vibration of the adults who surround them long before they learn to mimic their words.

---
---
Diseases follow thought lines, not blood lines.

---
---
Even the most dreaded disease will vanish when you completely remove your attention from it.
Everything that happens to you is created by the Energy you are summoning and allowing.. Or not.
Expectation is the most powerful condition that you can accomplish, because an expectation is a holding of a desire, a clear desire, and a belief about the same thing at the same time.

---
---
Feel Appreciation for what is…  and Eagerness for what is coming.

---
---
Get into the Vortex and then…
Give them a conscious understanding of how powerful and important and valuable and perfect they are.

---
---
If there is something that you desire and it is not coming to you, it always means the same thing. You are not a vibrational match to your own desire.
If we were talking to you on your first day here we would say, "Welcome to planet Earth. There is nothing that you cannot be or do or have, and your work here, your lifetime career is to seek joy."
If you know that all is well, you know all you need to know. And if you know life is supposed to be fun, you know more than almost anybody else knows.
If you're not excited about it, it's not the right path.
If you're not thinking about a negative thought, you're vibration is going to raise to its natural place.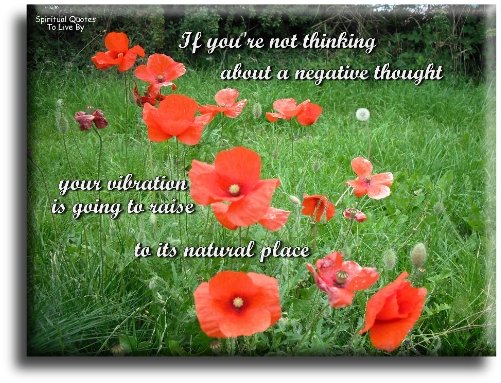 In this powerful now, wherever you are looking is transformed from the vibration from which you look. That's why you live in a world that is the same for everyone, but it is not – everyone that is walking down the same street is having their own unique experience.
It is my dominant intent to be good to me.
It is natural for my body to be well. Even if I don't know what to do in order to get better, my body does. I have trillions of cells with individual Consciousness, and they know how to achieve their individual balance.
It is the way you feel that is your point of attraction.
It's not your work to make anything happen. It's your work to dream it and let it happen. Law of Attraction will make it happen. In your joy, you create something and then you maintain your vibrational harmony with it, and the Universe must find a way to bring it about.

---
---
Let go of the oars… everything you want is downstream.
Like the air you breathe, abundance in all things is available to you. Your life will simply be as good as you allow it to be.

---
---
Mining the moment for something that feels good, something to appreciate, something to savour, something to take in… that's what your moments are about.

---
---
Never mind what is. Imagine it the way you want it to be, so that your vibration is a match to your desire. When your vibration is a match to your desire, all things in your experience will gravitate to meet that match.. Every time.
Non-physical consciousness is here with you all the time.

---
---
People  may love you and people may hate you and none of it is anything to do with YOU.

---
---
Reach for a thought that feels better.

---
---
See yourself as a magnet getting more and more of the way you feel.

---
---
The better you feel, the more in alignment you are. The worse you feel the more our of alignment you are.
The better you feel… the more you allow.
The child is thinking and receiving vibrational thought from you on the day that he enters your environment. That is the reason that beliefs are transmitted so easily from parent to child.
Lucy (2002)
The easiest way to let it in is by talking about what you want and why you want it.
The Law of Attraction is most understood when you see yourself as a magnet getting more and more of the way you FEEL.
The main event has never been the manifestation, the main event has always been the way you feel, moment by moment, because that's what life is.
The more joyful you are, the longer you live.
The process of breathing is much more than an essential function of your physical body. Indeed, it is the flowing of Spirit to you, and through you.
The purpose of your life is joy.
The reason for desires, goals, for finding those decisions or points of focus, is because they are life-giving things of the Universe. Without objects of attention, or objects of desire, Life-Force does not come through.
The standard of success in life isn't the things. It isn't the money or the stuff. It is absolutely the amount of joy that you feel.
The timing of your death is always chosen by you.
The Universe does not know if the vibration you are offering is because of what you are imagining, or because of what you are observing.
The Well-Being that you seek is flowing to you, relax and enjoy the unfolding.
There is great love here for you.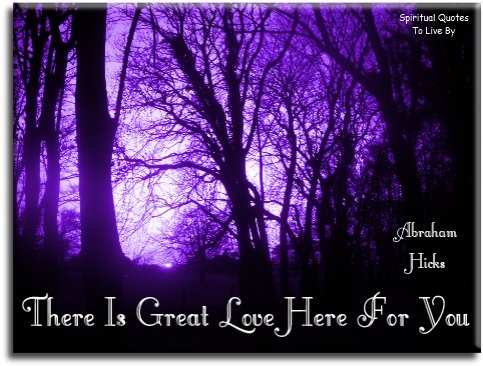 There isn't anything that I cannot be or do or have, and I have a huge Non-Physical staff that's ready to assist me.

---
---
Understand that there is nothing outside of you that is making the difference.

---
---
We want you to feel the appreciation of that which you call God, and that which we call All-That-Is, for the expansion of the Universe, that is a result of the Beingness that is you.
What someone thinks of you cannot affect you. It is your focus about what you imagine they are thinking that affects you.
What you think about activates a vibration within you.
What you think and what you feel and what manifests is always a match.. Every single time, no exceptions.
When you are in alignment your physical body responds differently than when you are not.
When you are loving your children and expecting good things for them, you are tapped into the energy of your Source and you're flooding that all over them.
When you become so determined that you want to feel good, you have become as your Inner Being is, in such a pure place of Positive Energy, then that which is negative energy simply can't mix with you. It defies law.
When you FEEL healthy and vital and alive and prosperous.. You attract more of those things.

---
---
You are here to create the world around you that YOU choose, while you allow the world as others choose it to be to exist also. And while their choices in no way hinder your choices, your attention to what they are choosing do does affect your vibration, and therefore your own point of attraction.
You are not here to fix anything because nothing is broken, but everything is continually changing and expanding. Release your struggle, and seek joy and fun, and in doing so, you will align with the fantastic expanding rhythm of this Universe.
You are the owner of all that you perceive, but you can't perceive apart from your vibration. Feel your way, little-by-little, into a greater sense of abundance, by looking for the treasures that the Universe is offering you on a day-to-day basis.
You can only coax someone into the Vortex from in the Vortex.
You didn't come for the manifestation… you came for the manifesting.
You didn't come for the creation… you came for the creating.
You came because you are a Creator and a Creator's gotta create.
You don't have to pull strings to get what you want. All you need do is walk in the consciousness of already having it.
You get what you expect, have you noticed that? You expect to survive, and so you do. You expect to have a roof over your heat, and so you do. You expect to live alright, and so you do. But you don't expect extraordinary things, so they don't come. You don't expect magnificent money to flow into your experience, and so it cannot get in. The only thing that comes to you is what you are expecting to come to you.
You will know your path by the fun of it.
Your choice of action may be limited, but your choice of thought are not.
Your most powerful moment is NOW.
Your thoughts change the behaviour of everyone and everything who has anything to do with you.
Your work is to bask in the pleasure of your eternal unfolding.
You've got to think thoughts that uplift you before you have anything to give your children.

Abraham Hicks Official Website
Jerry & Esther Hicks
For more information Abraham-Hicks Official Website
or watch videos from Abraham-Hicks YouTube page.

Abraham-Hicks Quotes About: