These Abraham-Hicks quotes about life are all wonderful words of wisdom for guidance to achieve a life of joy, peace and love. Esther and Jerry Hicks have been working with Abraham (a Collective Consciousness) since the 1980's, bringing much needed knowledge on the simplicity of living a life of joy to bring everything that you desire into your present life experience.
Other Abraham-Hicks Quote Pages:
Babies – Children – Death – Feeling Good – Health 
Law Of Attraction – Money – Spirit – Thoughts
Abraham-Hicks (selection of quotes from all pages)

---
 Abraham-Hicks Quotes About Life:  

A   
---
All you gotta do is chill out.. Let go of control and chill out.. Let it be, trust.
Appreciation in advance brings everything you want to you.
As you begin to feel freer regarding the expenditure of time and money, doors will open, people will come to assist you, refreshing and productive ideas will occur to you and circumstances and events will unfold. As you change the way you feel, you access the Energy that creates worlds.
As you think, you vibrate. And it is your vibrational offering that equals your point of attraction. So what you are thinking and what is coming back to you is always a vibrational match.

---
 Abraham-Hicks Quotes About Life:  

B   
---
Be as happy as you want to be in a world gone mad.
Be as safe as you want to be in a world that is afraid of everything.
Be as healthy as you want to be in a world that is mostly sick.
Don't let the statistics that someone else has created affect you. You get to choose – you are wise enough, smart enough, deliberate enough.
Be easy about it. Don't rush into things. Savour them more. Make more plans and be more deliberate and specific about the plans that you are making, and in all that you do, let your dominant intent be to find that which pleasures you as you imagine it. Let your desire for pleasure, your desire for feeling good, be your guiding light. As you seek those thoughts that feel good, you will always be in vibrational harmony with the Energy that is your Source. And under those conditions, only good can come to you, and only good can come from you.
Be happy in anticipation of what's coming.
Abraham-Hicks quotes about life
By choosing better feeling thoughts and by speaking more of what you do want and less of what you don't want, you will gently tune yourself to the vibrational frequency of your Broader Perspective. To see your world through the eyes of Source is truly the most spectacular view of life, for from that vibrational vantage point, you are in alignment with, and therefore in the process of attracting, only what you would consider to be the very best of your world.

---
 Abraham-Hicks Quotes About Life:  

E   
---
Everything is unfolding perfectly. And as you relax and find ease in your attitude of trust, knowing that Well-Being is your birth-right, amazing things will happen. Things the likes of which you have not seen before.
Everything that happens to you is created by the Energy you are summoning and allowing.. Or not.
Everything that you bring into your experience you bring because of this powerful law of attraction.

---
 Abraham-Hicks Quotes About Life:  

G   
---
Get into the Vortex and then…

---
 Abraham-Hicks Quotes About Life:  

I   
---
If our children were saying to us "I don't know which way to go, what should I do Mommy?" We would say, if we were standing in your physical shoes.. I think you do know which way to go, and I trust that you'll figure it out, and if you figure it out, and I believe you will, you'll feel ever so much better than if you just do what I think you should do. I think you know and when you figure it out that you know, NOW your life's gonna be fun.
If we were talking to you on your first day here we would say, "Welcome to planet Earth. There is nothing that you cannot be or do or have, and your work here, your lifetime career is to seek joy."
Abraham-Hicks quotes about life
If you know that all is well, you know all you need to know. And if you know life is supposed to be fun, you know more than almost anybody else knows.
If your dominant intent is to feel joy while you are doing the work, your triad of intentions – freedom, growth and joy – will come quickly and easily into alignment. See your 'career' as one of creating a joyful life experience.
It is so easy to make the finding of the path so much more complicated than it really needs to be because from within, you know if you've been willing to tune yourself to feeling good, no matter what, so that that's what matters most to you.. Then in your natural quest for joy you'll just keep being on your path.. Your path unfolds.
It is the way you feel that is your point of attraction.
It's natural for them to live happily ever after, and it's all this pandemic stuff that's being force-fed to you that makes you then pass it on to your children. It's natural for them to thrive and if you train yourself into expecting that, then you'll inspire them into expecting that and then they must thrive.
It's not about action.. It's about vibrational alignment.
It's not your work to make anything happen. It's your work to dream it and let it happen. Law of Attraction will make it happen. In your joy, you create something and then you maintain your vibrational harmony with it, and the Universe must find a way to bring it about.

---
 Abraham-Hicks Quotes About Life:  

L   
---
Let go of the oars… everything you want is downstream.
Let your alignment with Well-Being be first and foremost and let everything else be secondary. And not only will you have an eternally joyous journey, but everything you have ever imagined will flow effortlessly into your experience. There is nothing you cannot be, do or have.. But your dominant intent is to be JOYFUL.
Like the air you breathe, abundance in all things is available to you. Your life will simply be as good as you allow it to be.
Abraham-Hicks quotes about life
Look for good things about where you are, and in your state of appreciation, you lift all self-imposed limitations – and all limitations are self-imposed – and you free yourself for the receiving of wonderful things.

---
 Abraham-Hicks Quotes About Life:  

M   
---
Make a 'career' of living a happy life rather than trying to find work that will produce enough income that you can do things with your money that will then make you happy. When feeling happy is of paramount importance to you and what you do for a living makes you happy.. You have found the best of all combinations.
Many people protest when we explain to them the power of telling the story of their finances as they want it to be rather than as it is, because they believe that they should be factual about what is happening. But if you continue to look at lack-full what-is and speak of what-is, you will not find the improvement that you desire. If you want to effect substantial change in your life experience, you must think thoughts that feel different as you think them.
Many tell us that they are so busy making money that they do not have time to enjoy it.. For when you rely on your action to create, often you are too tired to enjoy your creation. Once you not only understand the power of your thought, but you deliberately direct this powerful tool in the direction of things that you desire, then you will discover that the action part of your life is the way you enjoy what you have created through your thought.
Mining the moment for something that feels good, something to appreciate, something to savour, something to take in… that's what your moments are about.
Abraham-Hicks quotes about life

---
 Abraham-Hicks Quotes About Life:  

N   
---
Never mind what is. Imagine it the way you want it to be, so that your vibration is a match to your desire. When your vibration is a match to your desire, all things in your experience will gravitate to meet that match.. Every time.
Not only does the power of your thought determine which people make their way into your life, but the power of your thought determines how they will behave once they get there.

---
 Abraham-Hicks Quotes About Life:  

P   
---
People say, "If I'm always setting goals and reaching for the future, then am I not squandering my now?" And we say, if in your now you are using a future event to make you feel good, you are still feeling good in your now. And that's the best use of Now that you could ever find.

---
 Abraham-Hicks Quotes About Life:  

S   
---
See this world as a free world, and see everyone in it as trying, through their individual experiences, to find their way back to that calling, back to that Source Energy. And even though there are billions of them going about it in a way that is different than you would choose, there's no right or wrong way. In other words, bless them all, and get on with the only thing you have any power about, which is opening and closing your Vortex to your natural state of Well-Being.

---
Abraham-Hicks Quotes About Life:  

T   
---
The main event has never been the manifestation, the main event has always been the way you feel, moment by moment, because that's what life is.
The more joyful you are, the longer you live.
The purpose of your life is joy.
Abraham-Hicks quotes about life
The reason for desires, goals, for finding those decisions or points of focus, is because they are life-giving things of the Universe. Without objects of attention, or objects of desire, Life-Force does not come through.
The standard of success in life isn't the things. It isn't the money or the stuff. It is absolutely the amount of joy that you feel.
There is a Life Stream that flows to you, and this is a Stream of clarity a Stream of wellness, a Stream of abundance – and in any moment, you are allowing it or not. What someone else does with the Stream, or not, does not have anything to do with how much of it will be left for you.
There is a paradigm shift that is afoot because so many people around the world are understanding the vibrational aspect of living.
There is nothing for you to go back and live over, or fix, or feel regret about now. Every part of your life has unfolded just right.
There isn't anything that I cannot be or do or have, and I have a huge Non-Physical staff that's ready to assist me.
Things are coming into your experience in response to your vibration. Your vibration is offered because of the thoughts that you are thinking and you can tell by the way you feel what kinds of thoughts you are thinking. Find good feeling thoughts and good feeling manifestations must follow.

---
Abraham-Hicks Quotes About Life:  

U   
---
Use any excuse you can use to feel good – and watch what happens.
Usually the greatest discomfort that we feel physical beings feeling around the subject of death is a feeling of – I should have done more, I should have said more, I should have completed something. – and we say, nothing is ever finished. There is no finish line. There is no ending in the Eternal life that we are all about you see.

---
Abraham-Hicks Quotes About Life:  

W   
---
What is has no bearing on what is coming unless you are continually regurgitating the story of what-is. By thinking and speaking more of how you really want your life to be, you allow what you are currently living to be the jumping-off place for so much more. But if you speak predominantly of what-is, then you still jump off, but you jump off into more of the same.
What you are living is the evidence of what you are thinking and feeling, every single time.
Abraham-Hicks quotes about life
Whatever it is you are feeling is a perfect reflection of what is in the process of becoming.
Whatever you're thinking about is literally like planning a future event. When you're worrying, you are planning. When you are appreciating, you are planning. What are you planning?
Who you really are is Non-Physical Energy focused in a physical body, knowing full well that all is well and always has been, and always will be. You are here to experience the supreme pleasure of concluding new desires, and then of bringing yourself into vibrational alignment with the new desires that you've concluded, for the purpose of taking thought beyond that which is has been before.

---
Abraham-Hicks Quotes About Life:  

Y   
---
You are Eternal Beings, in other words, you walk into this room, you all come willingly and yet you have not committed your life to being in this room. In a few hours you're going to get up and you're going to walk out of here and everybody's going to say that's just fine.
And when somebody makes their transition, which is no different from that – they just withdraw their attention from one room and give their attention to another room – you all act like it's the end of the world.
You are here to create the world around you that YOU choose, while you allow the world as others choose it to be to exist also. And while their choices in no way hinder your choices, your attention to what they are choosing do does affect your vibration, and therefore your own point of attraction.
Abraham-Hicks quotes about life
You are not here to fix anything because nothing is broken, but everything is continually changing and expanding. Release your struggle, and seek joy and fun, and in doing so, you will align with the fantastic expanding rhythm of this Universe.
You are Source Energy that had something in mind when you made the decision to come forth into this physical body. None of you said, "I will go forth and stay in this body for hundreds of years." Very often your intention was to come forth, make a big splash, have a lot of fun, and then make another decisions. Physical beings have turned this amount of life into an issue. You cannot evaluate quality of life by the quantity.
You are the creator of your own life experience, and as the creator of your experience, it is important to understand that it is not by virtue of you action, not by virtue of your doing, it is not even by virtue of what you are saying that you are creating. You are creating by the virtue of the thought that you are offering.
You cannot judge the value of a life by its quantity. It is by the joy that you are feeling. The more joyful you are the longer you live. Let yourself relax and breathe and be free and be joyous and romp. The optimum physical life experience is to have plenty of things that stimulate you to desire, and an awareness of the way you feel, so you're reaching for thoughts that feel good – so you're wide open, so you're tuned in, tapped in and turned on. We promise you, the timing of your death is always chosen by you.
You can't create in the lives of your children, they create their own reality, but when you worry on their behalf and you activate negative things in your vibration that have to do with them, then it's more likely for those negative things to be activated in them and then it's more likely for them to attract those negative things into their experience.
You didn't come for the manifestation – you came for the manifesting. You didn't come for the creation – you came for the creating. You came because you are a Creator and a Creator's gotta create.
You will know your path by the fun of it.
Abraham-Hicks quotes about life
Your choice of action may be limited, but your choice of thought are not.
Your life is right now. It's not later. It's not in that time of retirement. It's not when the lover gets here. It's not when you've moved into the new house. It's not when you get the better job. Your life is right now. It will always be right now. You might as well decide to start enjoying your life right now, because it's not ever going to get better than right now.. Until it gets better right now!
Your path is not narrow.. So you can't mess it up.
Abraham-Hicks quotes about life
Your time is a perceptual thing, and even though the clock is ticking the same for everyone, your alignment affects your perception, as well as the results that you allow.

Abraham Hicks Official Website
Jerry & Esther Hicks
For more information Abraham-Hicks Official Website
or watch videos from Abraham-Hicks YouTube page.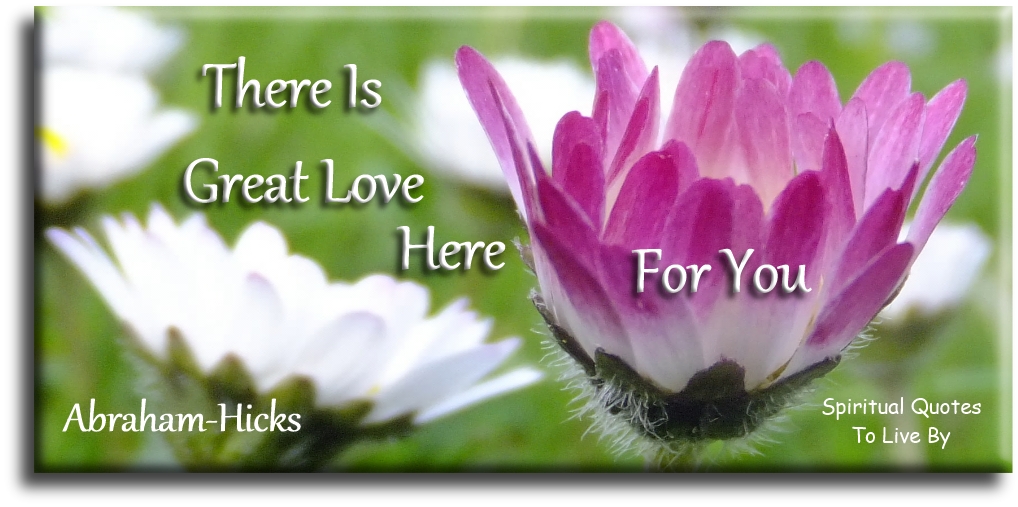 Abraham-Hicks Quotes About: